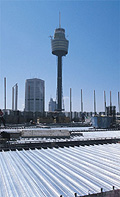 THE SMART CHOICE IN STRUCTURAL DECKING
DECKFORM® zinc-coated high-tensile steel sets a new standard for structural steel decking in the building and construction industry. Developed by BlueScope Steel specifically for the steel decking market, DECKFORM® steel delivers excellent durability and is backed by a 10 or 15 year BlueScope Steel warranty* and nationwide technical support.
Read more on the features and benefits of structural decking made from DECKFORM® Steel.
*Warranty requests are evaluated on a case by case basis. BlueScope Steel reserves the right to determine the warranty period given. All BlueScope Steel warranties are subject to terms and conditions which are available from suppliers of these products or from BlueScope Steel.